Divorce
We're Here to Listen and Take Action
Divorce Lawyers in Martinsburg, WV
Quality Divorce Attorneys Serving Berkeley & Jefferson Counties, WV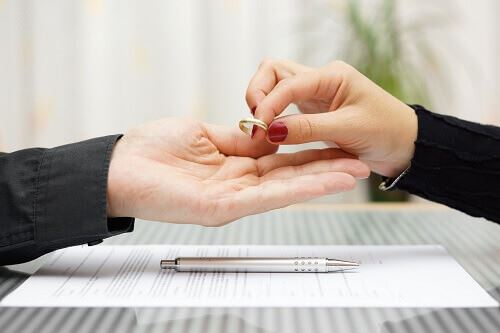 At Sutton & Janelle, PLLC, our West Virginia divorce attorneys can guide you through your family law case until you reach a smooth resolution. We can minimize the stress and contention that is so often involved when couples go through a divorce. Our WV divorce lawyers can be your fierce advocates as you go through a contested divorce, ensuring that all your best interests are fully represented at every moment. In addition, we can also assist you with alternative dispute resolution methods such as mediation.
Our West Virginia Divorce Lawyers Will Support You Through All the Following Matters and More:
---
Contested divorce
Uncontested divorce
High net worth division

Visitation
Legal separation

Division of property
Division of debts
Paternity
Modifications
How Long Does Uncontested Divorce Take in WV?
Typically, in the State of West Virginia, divorces can take anywhere from 30 to 90 days to be finalized. Even the most straightforward uncontested divorces can be a struggle. Dealing with all the related details, such as the division of property and child custody, is something that should not be taken lightly.
Because the outcome of your divorce case can permanently change the way you live your life, you should get legal counsel from an experienced West Virginia divorce attorney before you take any action.
Is West Virginia a No Fault Divorce State?
West Virginia recognizes both fault and no-fault divorces. A no-fault divorce means that you are not blaming the end of your marriage on your spouses' actions. Instead, you're simply claiming that irreconcilable differences led to the end of your marriage.
If your spouse disagrees about your marriage being broken, then you'll need to demonstrate to the court that you and your spouse have been living separate and apart for at least one year. A fault divorce means that you're blaming the end of your marriage on something your spouse did.
What Are Grounds for Divorce in WV?
Adultery
Child abuse or neglect
Conviction of a felony
Cruel treatment
Desertion
Insanity
What Is the Process for Divorce in West Virginia?
The exact West Virginia divorce process might look different in each case, but there are a few steps that are always required for divorce to work in West Virginia. If you're looking for how to file for divorce in WV, our experienced divorce attorneys can help.
To Get Divorced in WV:
The couple must meet the residency requirements in West Virginia. If the couple was married outside of West Virginia, then they must wait one year before filing for divorce in the state. If they were married in West Virginia, then the residency requirement is waived.
The couple must establish the grounds for their divorce – either fault-based or no-fault grounds.
One of the spouses mustfile for divorce and have the papers sent to the other spouse.
The other spouse will have the option to contest the divorce if there is any disagreement. If there is no disagreement, then the divorce can proceed as uncontested.
The couple may have to spend time resolving the contested family matters (such as property division and child custody) in the courts or possibly in an out-of-court settlement.
How to File for Divorce in WV
If you are wondering how to file for divorce in West Virginia, you will need to follow these basic steps:
Prepare forms – The forms will be different depending on if you have children or not.
File forms – The forms must be submitted to the county clerk's office.
Serve forms – The filing spouse must have the divorce documents delivered to the non-filing spouse.
Financial disclosures – Both spouses will need to disclose their assets and debts.
At Sutton & Janelle, PLLC, we understand that the divorce process can be complicated. Our compassionate Berkeley County divorce attorneys can help.
To speak with our experienced Berkeley County divorce lawyers, give us a call at (304) 867-0049 or contact us online today.
Is West Virginia an Equitable Distribution (50/50) Divorce State?
Under the law of equitable distribution, there is a presumption that marital property should be divided equally. There are certain exceptions to this rule, which may be unique to a particular divorce case. Our divorce lawyers in Martinsburg, WV are glad to discuss these matters in detail with our clients, to help them fashion a framework for property and debt distribution.
Factors that may influence where the assets go include:
The length of the marriage
The contributions of each spouse for the duration of the marriage
The age, health, and overall well-being of each spouse
WV Divorce Laws Marital Property
In West Virginia, marital property, including all debts and assets, is acquired or earned during the marriage. For example, consider a vehicle purchased during the marriage a marital property, even if it is registered and insured in only one spouse's name.
Remember, the rule is to divide marital property in half between the husband and wife. This rule applies unless there is a good reason that one spouse should have more or less than half. For example, the judge may feel it is better for one person to possess the house.
West Virginia is one of a minority of states that not only divide marital or community property acquired during the period of marriage. Still, it may divide assets earned before the marriage regardless of which person is the title owner.
Separate Property Guidelines in a WV Divorce
Separate property in West Virginia is a property that either spouse secured before marriage or acquired by either spouse after the marriage by gift or inheritance.
Separate property is unaffected by any decisions made in a WV divorce.
Suppose you are considering divorce in West Virginia. In that case, speaking with our attorney to discuss your circumstances and learn more about the laws governing marital property division is essential.
Call Our Divorce Lawyers Serving Berkeley County at (304) 867-0049!
How Much Does Divorce Cost in West Virginia?
It is impossible to say exactly how much your divorce will cost because the length of each divorce varies as do the legal fees. However, the court's divorce filing fee in West Virginia is $135.
Finding the funds to retain a good divorce attorney in West Virginia is often a point of anxiety for many litigants. A common fear is that the other party will stonewall them through litigious behavior and consequently running their fees up. The court will need to consider the need and ability of both parties when it comes to paying attorney fees and will also take into account child and spousal support.
Paying the fees in a divorce is often a point of contention in a divorce case. If your spouse has requested that you pay his or her attorney fees, our Martinsburg firm can assess the situation and determine what is fair. Our law firm's goal is to protect your rights and help ensure that you are set up for success in your divorce case.
How to Find a Good Divorce Lawyer in West Virginia
When choosing a West Virginia lawyer for your divorce case, you will likely go through a process of interviewing a few and picking your favorite. How do you know, however, which will be the best choice to protect your rights? There is a lot to think about, but it is important to not simply choose the family law attorney that just tells you what you want to hear or offers the cheapest prices.
You should choose a law firm that is devoted to hearing your family law case and gives you the time and attention you deserve. Another indication of a good West Virginia divorce lawyer is that he or she gives you straightforward and honest answers. This attorney should be able to have compassion on your situation, but also gives you a clear direction on how to effectively navigate your situation.
How Our Berkeley County Divorce Lawyers Can Help
At Sutton & Janelle, PLLC, our West Virginia divorce lawyers pride ourselves on devoting personalized attention to each of our clients. There are no "cookie-cutter" solutions at our firm—we take the time to thoroughly get to know our clients and create a plan of action that is tailor to their specific needs.
For instance, have you wondered about the difference between legal separation and divorce, and whether you can file for separation without divorce? The truth is that the differences are slight, and the spouses are still considered legally married. Legal separation can expedite the divorce process in many family law cases. For more information on legal separation and other divorce matters, trust the family lawyers at Sutton & Janelle, PLLC to help you.
Contact us or give us a call today to schedule a comprehensive consultation with a West Virginia divorce lawyer at Sutton & Janelle, PLLC.

Your Experience Matters
Our Current & Past Clients Share Their Experience
"Chris Janelle came through for me at a time when I REALLY needed an ally in my corner."

- John B.

"Fabulous people and good at what they do."

- Dena L.

"I felt very confident and relieved and retained them immediately with no regrets."

- Shannon S.

"I highly recommend Chris and his staff when you are looking for someone to assist with those difficult Legal times."

- Mike C.

"Mark is the best attorney."

- Barbara S.